The Handmaid's Tale Season 2 Trailer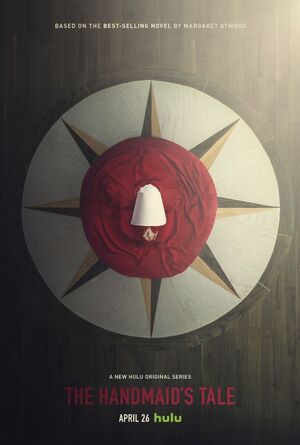 For the novel of the same name, see The Handmaid's Tale (Novel).
"My name is Offred, and I intended to survive."
Adapted from the classic novel by Margaret Atwood, The Handmaid's Tale is the story of life in the dystopia of Gilead, a totalitarian society in what was formerly the United States.
Facing environmental disasters and a plunging birthrate, Gilead is ruled by a twisted fundamentalism in its militarized 'return to traditional values'. As one of the few remaining fertile women, June (Elisabeth Moss) is a Handmaid in Commander Fred's household, one of the caste of women forced into sexual servitude as a last desperate attempt to repopulate the world. In this terrifying society, Offred must navigate between Commanders, their cruel Wives, domestic Marthas, and her fellow Handmaids – where anyone could be a spy for Gilead – all with one goal: to survive and find the daughter that was taken from her.
Starring Elisabeth Moss (Mad Men), Samira Wiley (Orange is the New Black), Joseph Fiennes (Shakespeare in Love), and Alexis Bledel (Gilmore Girls), The Handmaid's Tale airs on Hulu.
#

Image

Title

Airdate

1.
"Offred"
April 26, 2017
Offred struggles to survive as a reproductive surrogate for a powerful figure and his resentful wife.
2.
"Birth Day"
April 26, 2017
When Offred and her fellow handmaids assist with the delivery of Janine's baby, Offred remembers her own daughter's birth; Offred and Ofglen grow closer.
3.
"Late"
April 26, 2017
Offred visits Janine's baby and recalls the early days of the revolution before Gilead; Ofglen is faced with a challenge.
4.
"Nolite Te Bastardes Carborundorum"
May 3, 2017
Punished by Serena Joy, Offred begins to unravel and reflects on her time with Moira at the Red Center. A complication during the Ceremony threatens Offred's survival with the Commander and Serena Joy.
5.
"Faithful"
May 10, 2017
Serena Joy makes Offred a surprising proposition. Offred remembers the unconventional beginnings of her relationship with her husband.
6.
"A Woman's Place"
May 17, 2017
A Mexican Ambassador visiting Gilead questions Offred about her life as a Handmaid. Serena Joy reflects on her marriage and the role she once played in Gilead's inception.
7.
"The Other Side"
May 24, 2017
Remembering her family's treacherous escape attempt, a shocking revelation from life before Gilead provides a new perspective on Offred's life.
8.
"Jezebels"
May 31, 2017
Mr. Waterford takes Offred out for the evening while Serena Joy is away. That evening Offred is reunited with someone from her past.
9.
"The Bridge"
June 7, 2017
Janine is forced to give up her baby. Offred and Mr. Waterford return to Jezebel's.
10.
"Night"
June 14, 2017
Offred finds out some huge, life-changing news. Moira manages to escape to Canada.
Differences from novel
Edit
One of the major details that the TV series changed from the start is to drop all of book-Gilead's racial ideology, discriminating against non-whites. In the books, black women are not used as Handmaids but at best used as Martha servants, often sent to the Colonies to be worked to death. In the TV Show, Moira herself is black and a Handmaid. The TV producers have discussed their reasoning behind this change in several interviews - largely it was to focus on the misogyny of Gilead and because, logically, they believed that Gilead's rampant infertility would require them to not discriminate between the ethnicity of fertile women - they need all the child-bearing women they can to maintain the population and fulfill their goals.[1] Nevertheless, most members of the ruling class of Gilead, Commanders and Wives, have been depicted as caucasians so far.
In the series, Commander Waterford states in a flashback that there were three coordinated attacks against the US government when Gilead took over, sequentially: "Congress first, then the White House, then the [Supreme] Court". In the novel, there was one large attack against a joint session of both Houses of Congress being addressed by the President at the time.[2]
Production
Edit
A straight-to-series order by Hulu of The Handmaid's Tale was announced in April 2016, with Elisabeth Moss set to star. Based on the 1985 novel of the same name by Margaret Atwood, the series was created by Bruce Miller, who is also an executive producer with Daniel Wilson, Fran Sears, and Warren Littlefield. Atwood served as consulting producer, and had a small cameo role. Moss is also a producer. In June 2016, Reed Morano was announced as director of the series. Samira Wiley, Max Minghella, and Ann Dowd joined the cast in July 2016. Joseph Fiennes, Madeline Brewer and Yvonne Strahovski were cast in August 2016, followed by O.T. Fagbenle and Amanda Brugel in September 2016. In October 2016, Ever Carradine joined the cast, and Alexis Bledel was added in January 2017.
Filming on the series took place in Toronto and Hamilton from September 2016 to February 2017. The first full trailer of the TV series was released by Hulu on YouTube on March 23, 2017. The series premiered on April 26, 2017. On May 3, 2017, The Handmaid's Tale was renewed for a second season to premiere in 2018.
Reception
Edit
The Handmaid's Tale has received acclaim from television critics. On Metacritic, it has a score of 92 out of 100 based on 39 reviews, indicating "universal acclaim". The season has a 100% approval rating on Rotten Tomatoes with an average score of 9.1 out of 10 based on 67 reviews. The site's critical consensus is, "Haunting and vivid, The Handmaid's Tale is an endlessly engrossing adaptation of Margaret Atwood's dystopian novel that's anchored by a terrific central performance from Elisabeth Moss." Daniel Fienberg of The Hollywood Reporter called it "probably the spring's best new show and certainly its most important." Jen Chaney of Vulture gave it a highly positive review, and wrote that it is "A faithful adaptation of the book that also brings new layers to Atwood's totalitarian, sexist world of forced surrogate motherhood" and that "this series is meticulously paced, brutal, visually stunning, and so suspenseful from moment to moment that only at the end of each hour will you feel fully at liberty to exhale."
Trailers
Edit
References
Edit
↑ Jessica Goldstein, "Hulu's 'The Handmaid's Tale' shows how diverse casting can elevate a classic," ThinkProgress, April 25, 2017.
↑ Episode 6, "A Woman's Place"
Community content is available under
CC-BY-SA
unless otherwise noted.