Serena and June is a theme page that provides resources about the relationship of Serena Joy Waterford to her Handmaid Offred, June Osborne.
Season 2
Edit
Serena crawls into Offred's bed
Serena smokes as she listens to a lullaby. She later crawls into bed with Offred. She caresses her stomach and talks to the baby. When Serena leaves, Offred goes into the closet, repeating to herself, "My fault. My fault. My fault."
Conversation in the nursery
Later, Serena takes Offred up to the nursery to see how she's decorated it. Offred tells her it's beautiful. Serena promises to be the best mother possible, making Offred uncomfortable. She tells her about Hannah's room. When Offred asks to see
Hannah
, Serena sternly refuses and tells her to get her things out from downstairs to go back to her old room. Both women cry as
Offred
leaves.
Serena is in her room crying as she looks at the scars on her buttocks. Offred arrives and asks her if there is anything she can do but Serena only sends her back to her room. Instead, Offred goes downstairs and apologizes to
Fred
for what she did. She asks if he will forgive her and he says to go to bed.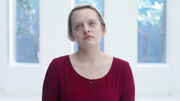 Ofmatthew
is brain dead and kept on life support throughout her pregnancy. An increasingly deranged June is confined to her hospital room. When Serena visits them, June attempts to stab her with a scalpel she had stolen from the medical waste disposal box. Serena fights back and cuts June in the arm. Serena alerts
Dr. Yates
and reports a self-harm instead of an attack on her. This may suggest she wants to protect June from further repercussions.
Community content is available under
CC-BY-SA
unless otherwise noted.