The Handmaid's Tale Season 2 Trailer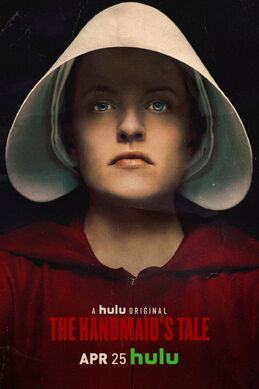 For Season One, see The Handmaid's Tale (TV series).
"Don't let the bastards grind you down."
Adapted from the classic novel by Margaret Atwood, The Handmaid's Tale is the story of life in the dystopia of Gilead, a totalitarian society in what was formerly the United States.
Actors returning from Season One are Elisabeth Moss, Max Minghella, Alexis Bledel, O-T Fagbenle, Madeline Brewer, Samira Wiley, Ann Dowd, Yvonne Strahovski, and Joseph Fiennes.
New characters will be portrayed by Cherry Jones, Marisa Tomei, and Bradley Whitford.
#

Image

Title

Flashback

Airdate

1.
"June"
June and Hannah
April 25, 2018
Offred reckons with the consequences of a dangerous decision while haunted by memories from her past and the violent beginnings of Gilead.
2.
"Unwomen"
Emily
April 25, 2018
Offred adjusts to a new way of life; The arrival of an unexpected person disrupts the Colonies; A family is torn apart by the rise of Gilead.
3.
"Baggage"
June and Holly
May 2, 2018
Offred reflects on her relationship with her mother as she navigates her way through Gilead. In Little America, Moira tries to cope with the trauma she endured.
4.
"Other Women"
June and Annie
May 9, 2018
A baby shower provokes a troubling shift in Offred's relationship with Serena Joy. Offred reckons with the choice she made that led her to become a Handmaid.
5.
"Seeds"
May 16, 2018
Offred spirals as a Gilead ceremony disrupts her relationship with Nick; Janine tries to adjust to life in the Colonies, jeopardizing her friendship with Emily.
6.
"First Blood"
Serena and Fred
May 23, 2018
Offred finds unexpected allies and obstacles in her search for a way to protect Hannah. The Commander prepares for the dedication of a new Red Center. Nick struggles with his new assignation.
7.
"After"
Moira
May 30, 2018
An attack sends shockwaves through both Gilead and Little America; Serena makes a dangerous choice; Moira searches for someone from her past.
8.
"Women's Work"
June 6, 2018
A sick baby tests Offred and Serena. Janine finally faces Naomi.
9.
"Smart Power"
June 13, 2018
The Waterfords embark on a diplomatic trip abroad. Serena faces the temptation of life outside Gilead. Luke and Moira grapple with survivor's guilt. Offred seeks support from allies.
10.
"The Last Ceremony"
June 20, 2018
A frustrated Serena becomes desperate. The Commander tries to make amends with Offred. Nick pushes Eden farther away. Offred is faced with an unexpected reunion.
11.
"Holly"
June 27, 2018
Offred faces a grueling challenge as she recalls her life as a mother. Serena Joy and the Commander deal with the fallout of their actions towards Offred.
12.
"Postpartum"
July 4, 2018
Offred is sent to a familiar place. Emily is assigned to a mysterious new house.
13.
"The Word"
July 11, 2018
Serena and the other Wives strive to make change. Emily learns more about her new Commander. Offred faces a difficult decision.