"

The human race is at risk. All remaining fertile women should be collected and impregnated.

"

— Commander Guthrie justifies slavery and sexual exploitation by a "state of emergency"[1]
Handmaids are, perhaps the most important - but also the most oppressed, social class of women in Gilead, as they are tasked with breeding and thus supplying Gilead with more children. Fertile women who in some way break the laws of Gilead end up as Handmaids or worked to death in the Colonies if they either fail or refuse to conceive children. They are assigned to the homes of Commanders, and sometimes highly skilled professionals (e.g. dentists) where their task is get pregnant by the men, so as to provide them and their infertile wives with a child. The first novel's main protagonist, Offred, is a Handmaid, as are a few of the secondary characters.
Attire
[
]
Handmaids wear red which is the color of blood and therefore, life. They wear full-skirted, ankle length red dresses, that cover their figures. The dresses are full sleeved, and they wear flat-heeled, red shoes "to save the spine". When they go outside, they must wear red gloves, and can wear red shawls or cloaks if it is cold or raining outside. Even their umbrellas are red. The only item of clothing they wear that is not red are a pair of white colored "wings", which they wear on their heads to frame and hide their faces. The "wings" give the Handmaids next to no peripheral vision; they can only see what is directly in front of them. The idea is to "prevent us seeing, but also from being seen".[2]
These women also carry a specific mark or accessory that identifies them as Handmaids: in the novel, their ankles are marked with tattoos; in the film, bar-coded bracelets are permanently attached to their wrists; in the TV series, red tags with serial identifiers are forcibly and painfully affixed to their ears.
Origins
[
]
The concept of Handmaids comes from the Biblical story of Rachel and her husband Jacob, in the Biblical book of Genesis. In the story, Rachel was unable to conceive children, so she suggested that Jacob impregnate Rachel's handmaid Bilhah and thus get children that way.
This is also a reference to Sarai (later God changed her name to Sarah) who instructed Abram (later God changed his name to Abraham) to impregnate her handmaid Hagar, so that God's promises to make Abram's descendants as numerous as sand in desert could be fulfilled. Hagar did become pregnant but her treatment by Sarai was so bad she ran away to the desert with her son Ishmael. As a handmaid at that time, being a handmaid was the lowest position in the class system. So being a handmaid left Hagar to be mistreated by both Abram and Sarai even when she was pregnant. Sarai probably mistreated her mostly because Hagar was pregnant and she wasn't. For Hagar to flee to the desert indicates the abuse was extreme. This situation, from Genesis 13-16, also foreshadows the entire storyline of the culture of the class system which also existed in Gilead.
Selection and Classification
[
]
Gilead forces fertile women into becoming Handmaids on the basis of both gender-based and religious-based crimes. June, for instance, relates that she was forced to become a handmaid because Gilead outlawed divorce and invalidated any marriages in which one of the partners was divorced; she was thus deemed to be an adulteress because her husband, Luke, divorced his first wife to marry her. On the other hand, Emily mentions in "Offred" that she "got caught at the airport", with her flashbacks in "Unwomen" suggesting that her (later deemed illegal) marriage to a woman was the reason she was forced to become a Handmaid. In "Baggage", the Econowife Heather tells June that fertile Econowives are threatened with being forced to become Handmaids if they break Gilead's laws.
Handmaid Prospects
[
]
 See also: The Rachel and Leah Center
Handmaids are 'trained' in their role as Handmaid prospects[3] in the Rachel and Leah Center, before being sent out on their first assignment. The Handmaids among each other use the term 'Red Center'[4].
Role in society
[
]
In Gilead, Handmaids are fertile women, who are supposed to be impregnated by Commanders or Angels whose Wives are infertile, thus providing them with children. Only high ranking men - such as Commanders - are allowed to have a Handmaid assigned to them. Handmaids are not supposed to have identities; they are forbidden to use their real names and are given new names whenever they are assigned to a new Commander. Their name consists of the word 'of', coupled with the first name of their Commander; for example 'of-Fred' = Offred, 'of-Glen' = Ofglen, 'of-George' = Ofgeorge, etc.
The novel does not mention the process and criteria for matching Handmaids and Commanders, although in the TV series, it is revealed that a household can refuse an undesirable Handmaid and that the women who had produced healthy babies are coveted items, and couples may resort to small bribery of Aunts to ensure the presence of this particular Handmaid at their household in the future.
... only skin-deep, the truth behind is brutal
Handmaids have three chances to get pregnant in three different households during two year assignments. If, after the third time, they are not able to produce a living, healthy baby, they will be sent off to the Colonies to face certain death. Handmaids that become infertile or reach a certain age without having ever conceived are also sent to the Colonies, as are women who refuse to become Handmaids.
Handmaids exchanging their real names
Handmaids usually live with the couple they are assigned to, in a spare room, though they occasionally go to sleep at the Red Center, where they live when they have not been assigned to anyone. They are sometimes required to help around the house, taking part in prayer time, shopping and helping to cook, but the rest of the time, they mostly stick to their rooms, having little else to do. They are required to take a walk once a day, to keep their abdominal muscles functioning. Handmaids are not allowed to be alone except when they bathe, use the bathroom, or sleep. When they go out in public, they are always accompanied by another Handmaid, and occasionally a Guardian, to protect pregnant Handmaids.
If a Handmaid conceives, then she is venerated (and envied) by many other women. She no longer has to take the walk or do chores; it is in fact considered risky for pregnant Handmaids to be out in public, in case something happens to the baby, or she is attacked by jealous women. Once a Handmaid gives birth, provided the baby is healthy, then it will immediately be given to the Wife of the Commander they are assigned to, who receives all the credit for the Handmaid's hard work. The Handmaid is generally ignored or overlooked, although she may be comforted or congratulated by her fellow Handmaids. Handmaids are allowed to stay with their babies for a few weeks, breastfeeding them, but after they are weaned, the Handmaids are forced to leave the household and are assigned to a new Commander. In the TV series, it is revealed that a Wife may be opposed to the presence of the Handmaid at the household after the baby is born; in that case, the Handmaid will go back to the Red Center and resort to a breast pumping machine to extract the needed milk. The babies they give birth to are not regarded as 'theirs' but rather their Commander's and his Wife's. It is likely that they never see their children again. The only comfort is that Handmaids who have successfully given birth to healthy children will never be declared Unwomen nor sent to the Colonies (unless, of course, they break the laws of Gilead).
In the TV series, Handmaids that have successfully given birth to healthy babies are given honored status at a special Prayvaganza where the Commanders and their Wives to which the Handmaid is assigned dedicate themselves to raising the children as their own.
In the TV series, customs regarding Handmaids apparently vary among their allocation districts. In Washington, for example, the Handmaids pictured took a vow of silence, with their mouths have been forced shut by ring piercings. The vow of silence is supposedly voluntary and these Handmaids have put on the rings themselves. They conceal these metal rings by using mouth covers called "Veils".
Known Handmaids
[
]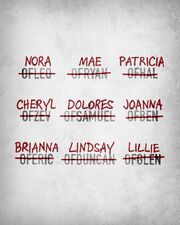 Below is a list of 66 Handmaids that have been mentioned or portrayed in either the novel, the movie or the TV series. Please note that the 31 Handmaids slain at the new Rachel and Leah Center have yet to be completely identified (some of their patronymic names were listed during the mass funeral and a few real names were mentioned by Rachel Tapping in a Canadian conference, meaning that some of the patronymic names listed below might correspond to some of the real names mentioned by Tapping). Characters that have yet to be seen after the bombing but have not been definitively identified as deceased will be listed as "unknown" until this scenario changes.
Patronymic name
Real name
History
Status
Appearances
Note
Ofandy
Unknown
Gives birth to a dead girl.
Alive; active
TV series
Ofben
Joanna Grant
One of the 31 Handmaids killed at the new Rachel and Leah Center attack.
Deceased
TV series
Unseen character
Ofcharles
Unknown
Executed during a Salvaging by hanging.
Deceased
Novel
Ofcolin
Unknown
One of the 31 Handmaids killed at the new Rachel and Leah Center attack.
Deceased
TV series
Unseen character
Ofduncan
Lindsay Hayes
One of the 31 Handmaids killed at the new Rachel and Leah Center attack.
Deceased
TV series
Unseen character
Ofedward
Unknown
One of the 31 Handmaids killed at the new Rachel and Leah Center attack.
Deceased
TV series
Unseen character
Oferic
Brianna
Ofsamuel's shopping partner. She escapes her posting after 86 children leave Gilead and lives as a Martha before being re-captured. She is killed by an oncoming train in an escape attempt.
Deceased
TV series
Offred (first)
Unknown
Completed suicide by hanging herself from the chandelier in her room.
Deceased
Novel
Film
TV series
Offred (second)
Ofjoseph (fourth)

June Osborne (TV Series)
Kate (film)

The main character of The Handmaid's Tale.
Alive; escaped (novels)
Alive; fled (film)
Alive; escaped (TV series)
Novel
Film
TV series
Ofgeorge
Unknown
Assigned to the Winslow house and has three rings hooked on her mouth.
Alive; active
TV series
Ofglen (first)
Ofsteven
Ofroy
Ofjoseph (third)
Dr. Emily Malek Ph.D.
Offred's shopping partner; connected to Mayday.
Deceased (novel)
Unknown (film)
Alive; fled (TV series)
Novel
Film
TV series
Ofglen (second)
Lillie Fuller
Replaces the original Ofglen as Offred's shopping partner.
Alive; active (novel, film)
Deceased (TV series)
Novel
TV series
Ofhal
Patricia Frank
One of the 31 Handmaids killed at the new Rachel and Leah Center attack.
Deceased
TV series
Unseen character
Ofjohn (first)
Unknown
A damaged Handmaid hidden from the Mexican delegation; killed at the new Rachel and Leah Center attack.
Deceased
TV series
Unseen character
Ofjohn (second)
Unknown
A deceased Handmaid; thrown at a moving bus by her shopping partner.
Deceased
TV series
Unseen character
Ofkyle
Crystal
Allocated to Commander Kyle and his second wife, Paula. She gives birth to a son, Mark, and dies in childbirth.
Deceased
Novels
Ofleo
Nora Ford
One of the 31 Handmaids killed at the new Rachel and Leah Center attack.
Deceased
TV series
Unseen character
Oflyle
Unknown
One of the damaged Handmaids hidden from the Mexican delegation; unseen after the new Rachel and Leah Center attack.
Unknown
TV series
Unseen character
Ofmatthew
Natalie
Serves as a shopping partner of Ofjoseph. Her loyalty to Gilead causes violent tensions among the other Handmaids.
Deceased
TV series
Ofmyles
Unknown
Unseen after the new Rachel and Leah Center attack.
Unknown
TV series
Ofraymond
Unknown
One of the 31 Handmaids killed at the new Rachel and Leah Center attack.
Deceased
TV series
Unseen character
Ofrobert
Alma
Associated to Mayday in the TV series. She escapes her posting after 86 children leave Gilead and lives as a Martha before being re-captured. She is killed by an oncoming train in an escape attempt.
Deceased
Novel
TV series
Ofryan
Mae Cohen
One of the 31 Handmaids killed at the new Rachel and Leah Center attack.
Deceased
TV series
Unseen character
Ofsamuel
Dolores
Oferic's shopping partner in the TV series.
Alive; active
Novel
TV series
Ofthomas
Unknown
One of the damaged Handmaids hidden from the Mexican delegation; unseen after the new Rachel and Leah Center attack.
Unknown
TV series
Unseen character
Oftim
Unknown
One of the damaged Handmaids hidden from the Mexican delegation; unseen after the new Rachel and Leah Center attack.
Unknown
TV series
Unseen character
Oftucker
Ofkyle (second)
Unknown
Acts as a wetnurse for Commander Kyle's son Mark.
Alive; active
Novels
Ofwarren
Ofdaniel
Ofhoward
Janine Lindo
A mentally unstable Handmaid. She escapes her posting after 86 children leave Gilead and lives as a Martha before being re-captured. She manages to escape Gilead again.
Alive; escaped
Novel
Film
TV series
Ofwayne
Unknown
Briefly mentioned as a possibly pregnant Handmaid.
Alive; active
Novel
Ofwyatt
Unknown
Imprisoned in the Rachel and Leah Center; pregnant when last seen.
Unknown
TV series
Ofzachary
Unknown
Unseen after the new Rachel and Leah Center attack.
Unknown
TV series
Unseen character
Ofzev
Cheryl Gardini
One of the 31 Handmaids killed at the new Rachel and Leah Center attack.
Deceased
TV series
Unseen character
None
Erin
Escaped to Canada before being assigned to a household.
Alive; defected
TV series
None
Moira Strand
One of the only Handmaids that managed to escape the Rachel and Leah Center before being assigned. Offred's best friend before Gilead.
Alive; reassigned as a Jezebel; later escaped
Novel
Film
TV series
Unknown
Adriana Hall
One of the 31 Handmaids killed at the new Rachel and Leah Center attack.
Deceased
TV series
Unseen character
Unknown
Alice
Whispers her name during the night at the Rachel and Leah Center.
Alive; active
Film
Unseen character
Unknown
Alison
Records her story on a letter for Mayday.
Deceased
TV series
Unseen character
Unknown
Ashley
Records her story on a letter for Mayday after fleeing to Jezebel's.
Unknown; defected
TV series
Unseen character
Unknown
Aubrey
Records her story on a letter for Mayday.
Unknown
TV series
Unseen character
Unknown
Cara
Whispers her name during the night at the Rachel and Leah Center.
Alive; active
Film
Unseen character
Unknown
Casey
Gives birth to a Shredder, who dies shortly after.
Alive; active
TV series
Unseen character
Unknown
Chloe Washington
One of the 31 Handmaids killed at the new Rachel and Leah Center attack.
Deceased
TV series
Unseen character
Unknown
Deirdre
Whispers her name to other Handmaids at the market[5].
Alive; active
TV series
Unseen character
Unknown
Erin
Not the same Erin that defected; whispers her name to other Handmaids at the market.
Alive; active
TV series
Unseen character
Unknown
Gabby
Offred's friend from the Rachel and Leah Center; had a miscarriage.
Unknown
TV series
Unseen character
Unknown
Gabriela
Records her story on a letter for Mayday.
Unknown
TV series
Unseen character
Unknown
Greer Ladestro
Records her story on a letter for Mayday.
Unknown
TV series
Unseen character
Unknown
Heather
A former Econowife, Heather was made a Handmaid after her husband Omar was executed.
Alive
TV series
Unknown
Isabella Lopez
One of the 31 Handmaids killed at the new Rachel and Leah Center attack.
Deceased
TV series
Unseen character
Unknown
Jada King
One of the 31 Handmaids killed at the new Rachel and Leah Center attack.
Deceased
TV series
Unseen character
Unknown
Jennifer Briggs
One of the 31 Handmaids killed at the new Rachel and Leah Center attack.
Deceased
TV series
Unseen character
Unknown
Jessica Jerry
Records her story on a letter for Mayday.
Unknown
TV series
Unseen character
Unknown
Joanna
Whispers her name during the night at the Rachel and Leah Center.
Alive; active
Film
Unseen character
Unknown
Julie
Whispers her name during the night at the Rachel and Leah Center.
Alive; active
Film
Unseen character
Unknown
June
In the film, June is a different Handmaid from Offred. Executed during a Salvaging by hanging.
Deceased
Film
Unknown
Katie
Presumed, a pregnant unmarried woman from Lydia's legal office taken away to a "school" by armed men.
Unknown
Novels
Unknown
Kathleen
Whispers her name during the night at the Rachel and Leah Center.
Alive; active
Film
Unseen character
Unknown
Maria Corrente
Records her story on a letter for Mayday.
Unknown
TV series
Unseen character
Unknown
Maria Navarro
Records her story on a letter for Mayday.
Unknown
TV series
Unseen character
Unknown
Marilyn
Whispers her name to other Handmaids at the market.
Alive; active
TV series
Unseen character
Unknown
Megan Young
One of the 31 Handmaids killed at the new Rachel and Leah Center attack.
Deceased
TV series
Unseen character
Unknown
Odette Johnson
One of the 31 Handmaids killed at the new Rachel and Leah Center attack.
Deceased
TV series
Unseen character
Unknown
Patricia Ruth
Records her story on a letter for Mayday.
Unknown
TV series
Unseen character
Unknown
Riley
Records her story on a letter for Mayday.
Unknown
TV series
Unseen character
Unknown
Robin Cook
Records her story on a letter for Mayday.
Unknown
TV series
Unseen character
Unknown
Sara
Whispers her name to other Handmaids at the market.
Deceased
TV series
She escapes her posting after 86 children leave Gilead and lives as a Martha before being re-captured. She is shot by a Guardian in an escape attempt.
Unknown
Sonya
A Handmaid to be assigned to the Hollbecks in the future.
Alive; active
TV series
Unseen character
Unknown
Stephanie
Whispers her name during the night at the Rachel and Leah Center.
Alive; active
Film
Unseen character
Unknown
Susan
Whispers her name during the night at the Rachel and Leah Center.
Alive; active
Film
Unseen character
Unknown
Tiana Moore
One of the 31 Handmaids killed at the new Rachel and Leah Center attack.
Deceased
TV series
Unseen character
Unknown
Unknown
Assigned to Dr. Grove, she gives birth to an Unbaby without a brain.
Unknown
Novels
Unseen character
Unknown
Vivian
A Handmaid to be assigned to the Carvers in the future.
Alive; active
TV series
Unseen character
References
[
]