Commander Lawrence's Bookshelf is briefly seen in
Useful
when
his Handmaid
fetches him a book from it, allowing the audience a view on the titles of his past publications and thus a deeper insight in his and Gileadean politics.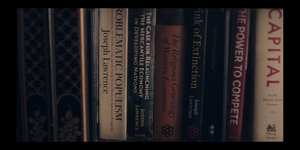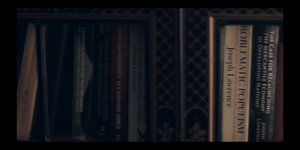 Mention in the Show
Edit
When June enters Commander Lawrence's study, which is now full of Commanders, the men are discussing a "shipment" of females from Chicago bound for the Colonies. As a discussion about the difference in gender abilities comes up, Lawrence mocks June's former profession as book editor and then commands her to fetch Charles Darwin's "The Descent of Man" from his bookshelf. She retrieves the book in question and kneels to give it to him, and he dismisses her remarking "Women can be useful".
Visible Book Titles
Edit
Darwin Bookshelf
Edit
Bookshelves with Lawrence's works
Edit
"Problematic Populism: Upheaval During the Fertility Crisis and the Long-Term Effects on American Prosperity" - Joseph Lawrence
"The Case for Relaunching the Mercantile Economy in Developing Nations" - Joseph Lawrence
"The Religious Genealogy of Western Economies" - ???
"Brink of Extinction" - Joseph Lawrence
"???? Economic Contexts" - ???
"The Power to Compete" - Ryoichi and Hiroshi Mikitani
"Economic Effects of the Religious Revival During the Fertility Crisis" - ???
"Women's Work and Coffee Spoons: Empirical Model of Women's Hours of Work" - Joseph Lawrence
"American Prosperity in a Warming World" - ???
"...of Social Class and the Emerging Power of Religion" - ???
Lawrence used to worry about the prosperity of his country in the face of global warming, fertility crisis and populist upheavals.
According to Aunt Lydia, Lawrence is responsible for the establishment of Gilead's economy.[1]
Some of Lawrence's works cover the impact of religion on national economy since he sees a positive "economic effect" by religiousness and its "emerging power".
The Boston Globe stated earlier that the Sons of Jacob, a ("old-fashioned") nation-wide religious association "raises new hopes"[2].
Lawrence sees mercantilism as a way for an underdeveloped nation to become competitive.
Lawrence is interested in numbers of female work performance. Women in Gilead aren't allowed to hold down a remunerated job[3]. According to Mrs. Eleanor Lawrence, her husband devised the systematic force labor in the Colonies[4].
References
Edit
Community content is available under
CC-BY-SA
unless otherwise noted.